I finally got some help with the Mona puzzles and how to get pass the light puzzle so here's the conclusion to this random blog I just started documenting mid way pretty much without a context….Than again this blog has always been random like.
After the puzzles we had to chase stars to do more puzzles that lead to more puzzles.
I know this kind of looks like Spiral Abyss domains with water but DANG THESE LOOK AWESOME!
Errr….I saw no guides about a 5th puzzle and it dawned on me the star was behind me…This must be for after the story since these places have post story events….MOVING ON!
The spiral starry water went away and….Hmm Well in the door we met with a chaotic revelation
We enter Mona's home and what we learn is….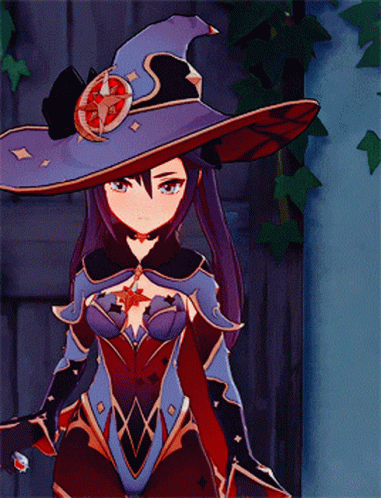 This idle animation……Is a lie….Well kind of…
Yup she is RICH
Fischl is NOT HAPPY! As much as she puts on royal airs she is not living life like a Princess and this made her mad…Honestly when I think about Fischl I oddly think about King Knight at the start of his story
Any way I took a look around her house before I activated the puzzle
Its always good to admire the art work even if you are in a small area, Its good to see some lore an visions the artist had in mind.
Back in we had Mona chasing stars and opening up till she fell into the starry area
Once we fell this happen
Now this is where things got weird…I was running around in a big room that looks like an out of space thingy and I tried to follow the star trails on the floor.
I picked up my phone and was on Discord and said "I am stuck and trying to figure out what I need to do and I need to look up a guide"….AFTER I SAID THAT and pressed send….
I looked up and saw the star moving and ran to it and finished what I needed to do.
Errrr…….I made a mistake and started a side quest witht he talking boat and mid way I stop taking screenshots to move on to the main plot at hand.
I just stopped here but I did have to take a few screenshots of ….You guessed it!
I really love this…..Not going to go off topic again….
Going to the machine we need to see….The sky turned red…….Reminds me of the Tsumi island 7 day quest line when we destroyed the tree.
This line here….
Fatui…Yeah I don't trust them and the Tasista…..I don't care what Childe says about her….Fatui and the Abyss Order….Yeah evil.
I missed the message but it was the start of the quest line….We had to go find the 3 crystalites cuz the man is going mad and has notes but it became jibber jabber so we need the 3 crystals to turn on the machine and fix this mess.
This machine uses the power of the Gods to turn dreams into reality
Off to the boat ride we go and puzzles yay!
Most people hate how long these go but I am cracking up at this.
And back to Klee's island I now know is called "Dodoland"
Back here we have some chatter before things get…..hmmm
After calling Venti we get no leads on who is using magic….we did call Venti and she blocked the signal and……………Okay we should just get it out the way….Her voice is heard at the end of the Sumeru trailer and ….Well…
This flashed on the screen
And that is that…I still have sub missions and mini games but overall the story is over and for the Dendero Archon….SHE IS GOING TO BE IN MY PARTY!!!
I can for see Klee, Qiqi, Kusanli, Dori as my overworld team mid way.
I'm making that happen!
WE GETTING MAGICAL UP IN HERE!
Okay I'm getting loopy, Thank you for viewing this blog.